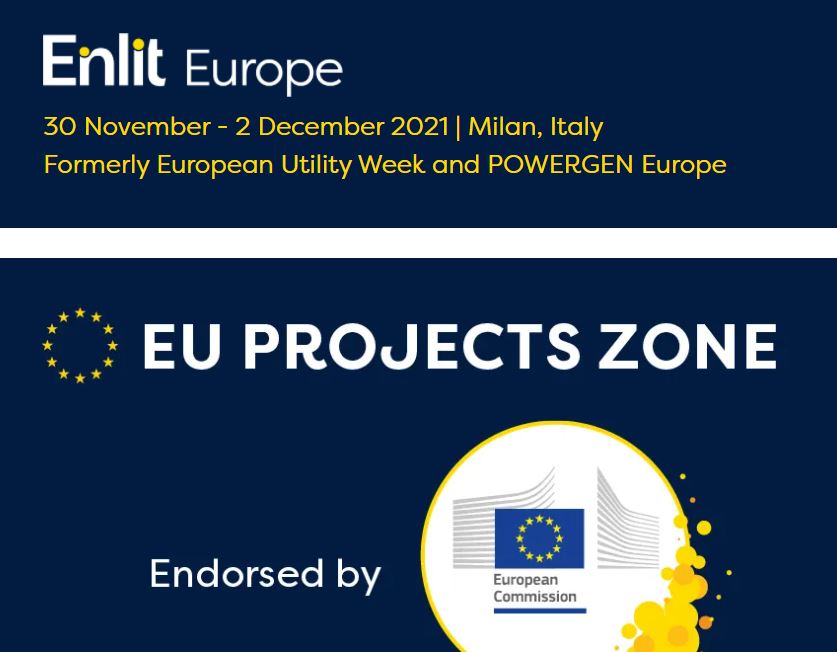 Thursday. 09 December 2021
Download BRIDGE discussion panel slides at ENLIT 2021
The BRIDGE Initiative worked with ENLIT for the 4th consecutive year to provide a  space to numerous EU funded projects working on Smart Grid, Energy Storage, Islands, and Digitalisation Projects and contributing to the deployment of renewable sources of energy as well as the digitalisation of the energy system.
ENLIT activities have been running all year round however, the physical event took place from 30 November – 2 December 2021 in Milan, Italy. A total of 38 BRIDGE projects registered to participate with a stand at the event. For more information on the EU Commission's objective and endorsement of Enlit Europe click here.
During the conference, a number of panel sessions invited representatives of the BRIDGE working groups and projects part of the BRIDGE initiative to speak on the following topics (click on the links to download the slide presentations):
-Flexibility market mechanisms across Europe – challenges to reach 2030 goals
-The role of the business models in provision of flexibility
-Citizens at the center: Creating a consumer-centric digitalization strategy
-Network code on cyber-security in energy
-Interoperability and data exchange to support the digitalisation of smart energy systems
-EIRIE Platform (Available soon)
-How to promote energy storage
STAY TUNED FOR THE RECORDINGS OF THE SESSIONS IN THE COMING WEEKS
About ENLIT
Enlit is the inclusive guide to the energy transition. From source to generation, from grid to consumer, the boundaries of the sector are blurring and this evolution is being shaped by established players, external disruptors, innovative start-ups and the increasingly engaged end-user. Enlit Europe, the new unifying brand for European Utility Week & POWERGEN Europe, will bring all of these people together to seize current opportunities, spotlight future ones, and inspire the next generation to participate in the journey.
< Back to all news